Glama Gal Kids Spa Ajax
Be CONFIDENT! Be POSITIVE! Be YOU!
We believe in this motto and you should too!!

Our virtual, in-studio and at-home programs inspire creativity in kids of all ages. Take a look at everything we have to offer - themed birthday parties, arts and crafts workshops, spa packages, summer and PA Day camps, mindfulness based paint classes, kids empowerment & confidence building workshops and so much more.

take a look at our services
Featured In-Studio Parties
Featured In-Studio Spa & Craft Packages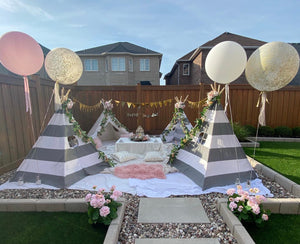 Looking for a unique at-home party experience?
Be the talk of the town with a fun-tastic and creative party at your home or preferred event venue. Boho-chic vibes, foam parties, tie-dye, donut decorating and so much more. Let us bring our inspirational, one-of-a-kind party packages to you!
Learn More About our Off-Site Parties
I cannot say enough good things about Glama Gal and the owner Dishni. My daughter has severe anxiety so COVID has taken a toll on her mental health. I originally got in contact with Dishni to order an at home spa day package and since then we have done numerous paint nights, slime workshops, a tie dye one, the Father's Day activities and virtual camp. During every experience Dishni has gone above and beyond to make my daughter feel special and brought some sense of normalcy to her life. We can't wait to finally get into the spa for an actual mommy/daughter spa day but in the meantime we are excited to try out even more of the great virtual services Dishni and Glama Gal provides 🙂
Laurie Morris
I honestly can't find the words to thank you for everything today. It came together and was just perfect! Thanks for helping my ideas come to life and making it such as special day for Charley. Each of those little girls has a blast and I quote "was the best day ever" or "I wanna have my birthday party there next time too" heard from their parents. It was likely one of their biggest outings since we have come out of lockdown and such a fun one they are sure to remember. You and your team have been amazing through all of this and I really want you to know that I recognize all your hard work and dedication to your business. The joy and laughter I heard from those girls throughout the day was heart warming. Thanks for being such a positive influence on these little ladies.
Amanda McCarthy
Wow! Our party just finished and it was a total hit. Glama Gal Erin did an amazing job keeping all those kiddos moving and engaged! We are a big celebration family and this was a great way to have a great time with all of our friends. I would and will totally recommend this for anyone who asks. You guys were a total dream to work with. The party totally exceeded my expectations. Well done! 5 ⭐️ all the way.
Hilary Eaton
We hosted a 9th Birthday party via zoom Harry Potter themed and it was awesome! The girls all had such a fun time doing the crafts, decorating the cookie, playing trivia, making slime and more! They made the birthday girl feel special by sharing favourite memories and singing Happy Birthday. Highly recommend.
Sherry Corbitt
Glama Gal Dishni and her amazing artist Ariellah did an amazing job with our socially distanced outdoor paint party for my 7 year old's birthday. They paid attention to every detail (COVID or otherwise)! It was such a fun afternoon. Thanks again girls - we had SO much fun 🙂
Cindy Boyd
My girls LOVE coming here to unwind from the stresses of life. The staff are amazing, the spa is beautiful and the price ranges are perfect for us. So happy to be able to come back and have fun!! Thank you!!
Amy Christmas
This place is just amazing. The service, the staff and the set up were unreal. We just had our daughter's fifth bday there today. I have never seen her so happy. All the parents of the other kids called to tell us how happy their kids were and how they couldn't stop talking about all the fun activities they did. I definitely recommend this place for a bday party.
Ameen Hamm
Thanks so much . You guys are fantastic with the little kids on line . Thanks for doing virtual during the pandemic. Makes it somewhat normal for the kids 😀 have a great Sunday night :)
Kayla Greco
I couldn't possibly recommend Glama Gal Kids Spa Ajax more ❤️ My little girl had the absolute best time with her friends, celebrating her 8th birthday. From dinner and cupcakes to mani's and pedi's, cucumber facials and dancing, it just never ended! Girl empowerment was the highlight of the evening. They promote pursuing your dreams and being your best self. Havynn had a blast 🎂 🎈 🎉
Christine Groulx
My girls have always loved Glama Girls Kids spa Ajax from the first time they won a contest to Halloween parties, Christmas events, end of year parties and summer camp. During this time of the COVID-19 pandemic my girls look forward to the virtual workshops almost weekly. Before the leave meeting button is pushed they are asking, "when is the next one." The owner Dishni always goes above and beyond. Keep up the amazing job Glama Gal Ajax!
Leslie Taylor-Montecinos
From the very beginning you made the entire virtual birthday party process super easy and you were accommodating to any request. I am very impressed with your friendly customer service and attention to detail. My sweet daughter Lexie had the most wonderful Glama Gals virtual birthday party we could have ever hoped for. I'm am so grateful for having this opportunity for her to celebrate during a time that in person parties were just not possible. All of her friends had the best experience and their parents were thrilled with how much fun they had. Erin was a remarkable party leader. Her patience and enthusiasm was much appreciated and the young girls totally loved her. We intend on having many more events with Glama Gals and let's hope some are soon possible to be enjoyed in person. I wish Glama Gals much success and I thank you so very much!
Liisa Woods
Please tag us in your photos! Your kids inspire us and we would love to feature them.
(*If your profile is private and you want to be featured, please send us the pictures via email as we cannot see your tagged photos. ✉ ggajax@glamagalparty.com)