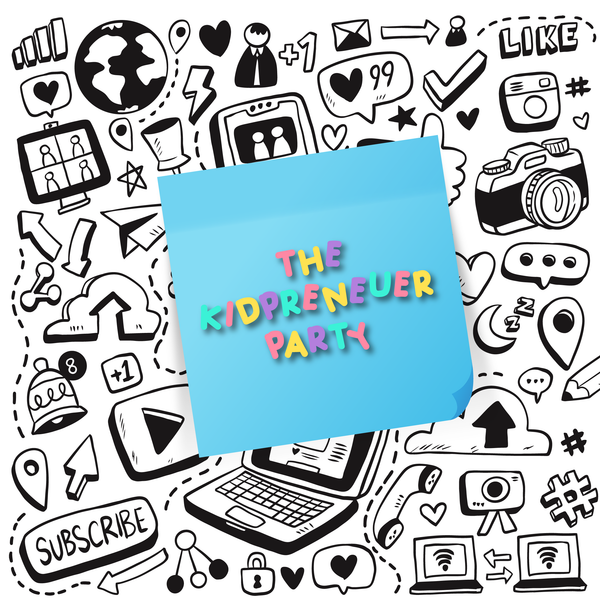 The Kidpreneuer Party (in-studio party)
This package is for 8 kids (including the birthday guest of honour). Additional guest fee: $49 per kid. 
Includes: 
Create a slime, perfume, lip gloss, body scrub, lotion or fidget business  
Each guest will be given a kit to create their own business based on 1 of the items above
Design your own mini notebook and our 

staff will help you come up with your own business 

plan
Come up with a name for your business and design your own logo and stickers
Design your own business card
Create and take home your own business packaging
Kid Boss manicure
Picture perfect table setting

Inspirational s

cavenger hunt and 

birthday game

Disco dance party
Digital invitations

Gender neutral options available. Please contact us for details.  
Duration: 2 hours 
Important Party Details
We will call you 5-7 days before your party to review all your final party details. During that call, we'll go through all your questions and confirm additional details such as -- the final number of guests attending, if you require gender neutral substitutes for any activities in your party, allergies, arrival time, the flow of the party etc.
Please have your final guest numbers confirmed before our call (7 days prior to your party date). Additional guests will be added to your booking at this time. Based on the size of our studio, we can comfortably accommodate up to 20 guests. If you have a larger group, please contact us for more options.

Your package covers 8 kids (including the birthday girl/boy). If your guest count is below 8, we will offer a complementary upgrade to your package. If you have more than 8 kids, all additional kids will be charged at $49 per child.
You have till 48 hours before your party to let us know of any last minute changes to your guest numbers. On the day of the party, you will be charged for the number of additional kids as per what you confirm. If one additional guest does not turn up, we would be happy to take that extra guest off your bill as a courtesy. But you will be required to pay for all other additional kids whether they turn up or not.  
You may bring your own food items as long as it does not contain nuts. All food items MUST arrive with you; 10 minutes before your party start time. We always start the party with food. If your food is late, it may disrupt the duration and flow of your party. Please advise us ahead of time of any food items you are bringing.
To avoid overcrowding in the studio, we allow 2-4 parents to stay for the party. Please encourage the majority if your guests to drop off their kids. If your group is very young, we can make some exceptions and allow a few more parents to stay, but please note, your group may feel cramped. There is also a restaurant right next door if parents want to remain close.  
If you have any urgent questions that you need answered right away, please send us an email to ggajax@glamagalparty.com or call us at 905-239-4443 (please leave us a voicemail if you don't get anyone on the phone -- if you don't leave a message, we won't know that you called).